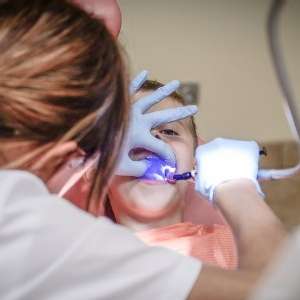 Family Dentist in Toronto: Tooth-Friendly and Healthy Lunches for Your Kids
August 13, 2018
While parents can rejoice in sending their kids out of the door to school, the responsibility of ensuring that their children eat healthy and tooth-friendly food stays forever. If you have little ones, then you understand being cautious of what they eat at lunch time. Packing their lunch boxes with nutrient-rich foods will take good care of their teeth and gums, including their overall health. Consulting your family dentist in Toronto is a good first step towards a tooth-friendly diet but here are a few quick tips for healthy lunch options for your kids.
Starting good oral health habits at a young age is important for a lifelong healthy and happy smile that your family dentist in Toronto will be thanking you for!
Here are the superfoods to include in the lunch boxes of your kids that are tooth-friendly and healthy.
The power of protein: Protein-rich foods such as chicken, deli sandwiches, and turkey help build tooth enamel. Your family dentist in Toronto will mention any of these foods as a great foundation for school lunches.
The richness of calcium: The bacteria within the mouth produce acids that can cause dental damage. Cheese and milk are proven to help neutralize bacteria, strengthen teeth, and other bones in the body.
Vitamin-packed foods: foods rich in vitamins in A, C, and D are great in making sure gums are happy and healthy. Additionally, they also help in absorbing protein and calcium. Some vitamin rich foods are red peppers, oranges, and hard-boiled eggs.
Water and more water: as you might know, water nourishes life like none other. Sweet drinks can make them happy, but the sugars can cause more harm in their teeth. Water, on the other hand, can help prevent bad breath by keeping them hydrated and rinsing away any waste.
Packing nutrient-rich foods and drinks is a great way of maintaining good oral habits. Combining this with regular tooth brushing, flossing, and of course, visits to a family dentist in Toronto and you'll help your kids maintain a happy and healthy smile.
Thanks for the great article!
Posted by: Yara | January 8, 2019, 11:52 am
*** Your email address will not be published.
Promotions
---
Complimentary Consultations:

WE are offering no-obligation and no-cost complimentary consultations!

We understand that choosing a healthcare provider is a very personal decision and want to ensure
that you are comfortable with your dental team before committing to an examination or treatment plan.

This is why we invite you to schedule a 15-minute, complimentary consultation.
There is no-obligation and no-cost for a complimentary consultation!
This is your chance to meet us or discuss general and cosmetic dentistry services in a relaxed, conversational setting.

Call/Text, email now to book your complimentary consultation today!
647-352-0755 - qqdental2@gmail.com