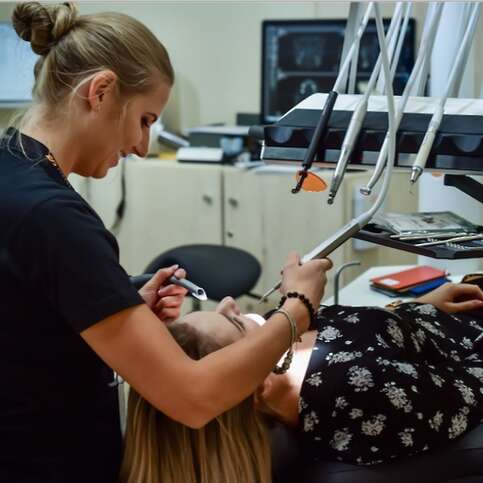 Scheduling Visits to the Dental Office
May 20, 2020
At-home oral care simply won't cut it if you're looking to maintain your oral health in the long-term. Brushing your teeth, flossing, and using mouthwash are essential as part of your everyday oral care routine. But you alone, aren't able to assess the health of your teeth and gums the way a dental professional would be able to.
It is for this reason that making the decision to visit a reputable dental office in Toronto is what can take your oral health from good to great. Once you've found a dental office you trust, it's important to schedule regular check-ups to ensure your teeth and gums are healthy. But how often should you visit the dentist?
In today's blog we offer a few guidelines when it comes to how often you visit your dental office in Toronto.
Regular Trips to the Dentist
As mentioned above, it's important to schedule regular check-ups to make sure your teeth and gums are healthy. But the frequency of how often you should visit the dental office will depend on your own oral health and what your dentist thinks is the best course of action based on your unique needs. For example, someone with great oral hygiene won't need to visit as frequently as someone who has poor oral hygiene.
Experiencing Pain and Discomfort
If you're experiencing consistent tooth or gum pain, it's worth calling up your dental office in Toronto to book an appointment. Addressing these issues in your next scheduled dentist office visit may be prolonging an issue unnecessarily and could result in it getting worse. Talk to your dentist immediately, and don't put things off for too long.
Post Treatment Assessment
If you've been experiencing ongoing issues with your oral health, or have recently undergone a recent oral surgery, your dentist might want to follow-up with you more frequently. If you've just completed a surgery, they will want to take a look post surgery to ensure everything is healing properly and that there aren't any other issues that could negatively affect the healing process.
No comments yet...
*** Your email address will not be published.
Promotions
---
Complimentary Consultations:

WE are offering no-obligation and no-cost complimentary consultations!

We understand that choosing a healthcare provider is a very personal decision and want to ensure
that you are comfortable with your dental team before committing to an examination or treatment plan.

This is why we invite you to schedule a 15-minute, complimentary consultation.
There is no-obligation and no-cost for a complimentary consultation!
This is your chance to meet us or discuss general and cosmetic dentistry services in a relaxed, conversational setting.

Call/Text, email now to book your complimentary consultation today!
647-352-0755 - qqdental2@gmail.com