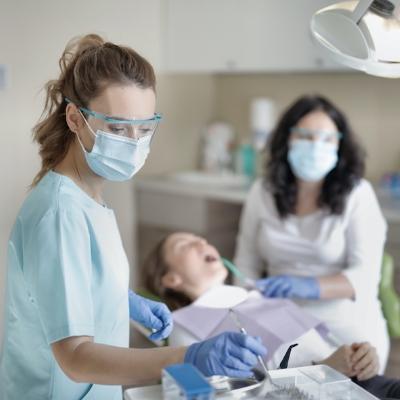 The Importance of Preventative Dental Maintenance
May 06, 2020
When it comes to oral hygiene, preventative maintenance is imperative in keeping a healthy mouth. Preventative maintenance encompasses all the steps taken both at the dental office and at home to mitigate oral health issues in the long-term.
When you take steps to prevent underlying dental issues such as teeth decay and gum disease, you are working to reduce future dental treatment and maintain great oral health.
A quality dentist in Toronto should work with you to prevent the need for treatment by advising on a treatment or oral care regimen that serves as a maintenance plan.
Everyone can benefit from preventative dentistry. It's important to undergo regular check-ups with your dentist in Toronto to ensure that you are maintaining good oral health, and to check if there are any underlying issues that may be affecting your teeth and gums.
Regular visits to your dentist will include a visual inspection of your teeth and gums to see if you require treatment, should there be any signs of gum disease or tooth decay. The dental team will then work to remove any plaque or tartar from your teeth during a process known as "scale and polish". Next, your dentist will show you the best way to brush and floss your teeth to ensure optimal removal of plaque while at home. Your dentist will also advise on what oral hygiene products are best for you to use, and will discuss factors that can affect your oral health like diet, smoking, and drinking.
Depending on the condition of your mouth and gums, your dentist might prescribe certain preventative treatments such as new fillings, or an 'onlay' to protect a certain tooth from further deteriorating. Ultimately, what your dentist will prescribe will largely depend on the condition of your teeth and gums.
If you're wondering how to maintain the best preventative oral health maintenance while at home, you should reach out to your dentist in Toronto directly. If you're in need of a quality dentist you can rely on, feel free to give us a call at QQ Dental. Our team of dedicated oral health professionals are here for you!
No comments yet...
*** Your email address will not be published.
Promotions
---
Complimentary Consultations:

WE are offering no-obligation and no-cost complimentary consultations!

We understand that choosing a healthcare provider is a very personal decision and want to ensure
that you are comfortable with your dental team before committing to an examination or treatment plan.

This is why we invite you to schedule a 15-minute, complimentary consultation.
There is no-obligation and no-cost for a complimentary consultation!
This is your chance to meet us or discuss general and cosmetic dentistry services in a relaxed, conversational setting.

Call/Text, email now to book your complimentary consultation today!
647-352-0755 - qqdental2@gmail.com