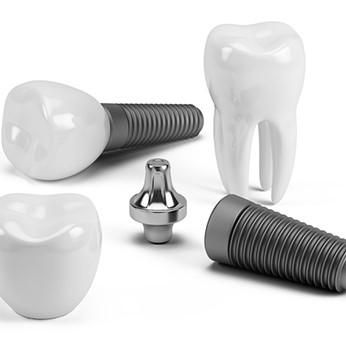 6 Amazing Benefits of Dental Implants
July 26, 2019
Dental implants offer unmatched advantages. Since its development, it has become the go-to treatment for a lot of people seeking tooth replacement, and clinics offering dental implants in Toronto have really stepped up their game to provide the best service and treatment. Nowadays, dental implant technology is so advanced that it is virtually impossible to tell real teeth from prosthetic teeth, and the procedure itself has become much more patient-friendly.
On top of all these advancements, dental implants also offer the following benefits:
Convenience
Unlike dentures, dental implants are securely attached to your jawbone. As such, they act just like real teeth that you don't have to remove during the night and put back the following day.
Durability
Dental implants offer unmatched durability as it can last a lifetime with proper care. Unlike dentures, it does stay only because of adhesives, which can be uncomfortable in your mouth.
Enhanced Appearance
Dental implants resemble your own natural teeth. And since they are attached to your jawbone, they are considered permanent. You no longer need to worry about how your smile looks. In fact, this is quite likely the biggest reason people seek out dental implants in Toronto.
Improved Speech
Loose-fitting dentures can affect the way you speak. With dental implants, nothing gets in the way and you can speak clearly and confidently.
Better Overall Oral Health
Fixed dental implants are positioned like normal teeth. As such, your oral hygiene routine will not be affected by the presence of your dental implants. You can even brush and floss your dental implants like the rest of your teeth.
Indeed, undergoing a dental implant procedure can be a life-changing experience for many people.
Dental implants in Toronto are available at Queens Quay Dental Care, where our experience dentists can help you maintain the structure and function of your teeth. Make an appointment today!
No comments yet...
*** Your email address will not be published.
Promotions
---
Complimentary Consultations:

WE are offering no-obligation and no-cost complimentary consultations!

We understand that choosing a healthcare provider is a very personal decision and want to ensure
that you are comfortable with your dental team before committing to an examination or treatment plan.

This is why we invite you to schedule a 15-minute, complimentary consultation.
There is no-obligation and no-cost for a complimentary consultation!
This is your chance to meet us or discuss general and cosmetic dentistry services in a relaxed, conversational setting.

Call/Text, email now to book your complimentary consultation today!
647-352-0755 - qqdental2@gmail.com