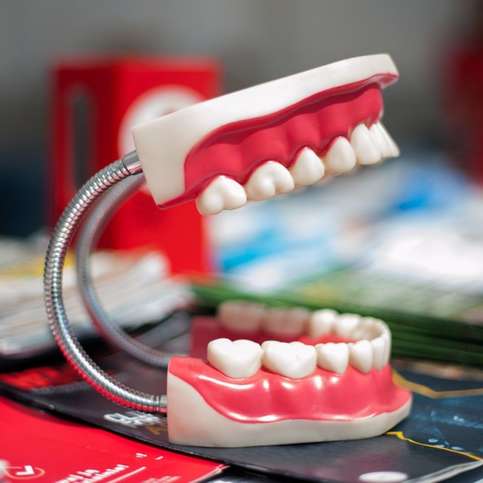 Become Wiser Around Your Wisdom Teeth
October 25, 2019
Your wisdom teeth, also known as third molars, are an oddity amongst your ivories, whilst, at the same time, being a common inquiry for your family dentist in Toronto.
While dubbed with the moniker of 'wisdom', much of the general population are left feeling like they couldn't be further from the word in terms of their knowledge around these teeth.
Today's piece should help you go from 'none the wiser' to 'some the wiser', starting with…
Why Do We Have Wisdom Teeth in the First Place?
While there is no objective consensus on this question, scholars have posited that they once served a great purpose to our ancestors. Much of the food today is softer and more giving than the diets of old; consisting of uncooked meats and unyielding plants, this encouraged the development of large and powerful jaws – capable of fitting 32 teeth, instead of 28 - to ensure proper mastication.
Reasons such as this, as well as improper breathing habits during adolescence, are considered to be at the heart of wisdom tooth malalignment. Reach out to a family dentist in Toronto if you find yourself worried about them.
How Common Is Wisdom Teeth Removal?
It is well-established in the scientific literature that third molar removal is the most common of oral surgery procedures1. While third molar extraction rates in Canada remain largely unreported2, educated estimates can be made to establish a reasonable rate of occurrence.
In order to do this, we need to know the incidence rate of third molar impaction (unnatural positioning) worldwide and extrapolate this to the Canadian population. Let's get started – the rate of third molar impaction on a worldwide basis is currently estimated to be around 24%.3 If we go ahead and apply this estimate to the Canadian population, that leaves us with >9 million of the current 37.6 million people in Canada that have potentially undergone third molar extraction.
As you can see, this is a common affliction amongst Canadians. If you're located in Toronto, it is served in your best interest to avoid complications from third molar impaction by scheduling an appointment with a family dentist in Toronto.
What Age Do Wisdom Teeth Come In?
The general ages for wisdom teeth to erupt, i.e. show through the gums, are between the ages of 17-25. For Canadians who are unsure, a family dentist in Toronto can use an X-ray to spot whether this is the case and can provide a prognosis for its progression.
REFERENCES
1. Kucukkolbasi, H., Esen, A. & Erinanc, O. H. Immunohistochemical analysis of Ki-67 in dental follicle of asymptomatic impacted third molars. J. Oral Maxillofac. Pathol. 18, 189–193 (2014).
2. Prophylactic Removal of Wisdom Teeth: A Review of the Clinical Benefit and Guidelines. Can. Agency Drugs Technol. Heal. 1–15 (2010).
3. Carter, K. & Worthington, S. Predictors of Third Molar Impaction: A Systematic Review and Meta-analysis. J. Dent. Res. 95, 267–276 (2016).
I'm looking for a family dentist in Toronto. Where are you located?
Posted by: Nick | November 18, 2019, 11:46 am
*** Your email address will not be published.
Promotions
---
Complimentary Consultations:

WE are offering no-obligation and no-cost complimentary consultations!

We understand that choosing a healthcare provider is a very personal decision and want to ensure
that you are comfortable with your dental team before committing to an examination or treatment plan.

This is why we invite you to schedule a 15-minute, complimentary consultation.
There is no-obligation and no-cost for a complimentary consultation!
This is your chance to meet us or discuss general and cosmetic dentistry services in a relaxed, conversational setting.

Call/Text, email now to book your complimentary consultation today!
647-352-0755 - qqdental2@gmail.com