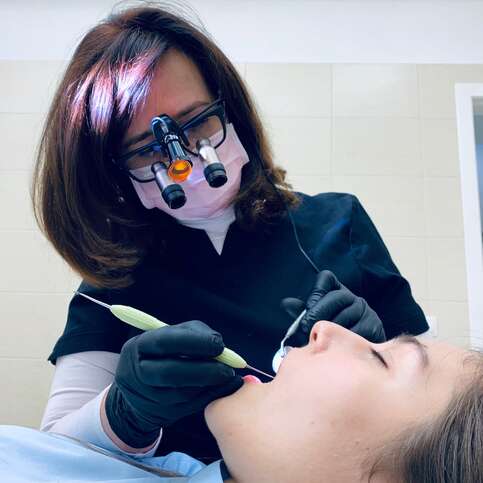 Important Questions to Ask Your Family Dentist in Toronto
July 23, 2021
Visiting the dentist can be a family affair. Especially for families with young children, having a reliable family dentist in Toronto is crucial for your family's health.
In today's blog, we talk about some of the important questions you should ask your family dentist in Toronto:
1. How can my family improve our dental health?
As the parent in the family, helping everyone maintain their dental health is a responsibility that rests on your shoulders. With that said, there are some easy steps to make this process seamless for you. Your family dentist in Toronto can recommend the best kinds of toothpaste, toothbrushes, and even advise on specific diets or restrictions. Your dentist should know your family well enough to help customize their advice to your specific needs.
2. How does our dental health relate to our overall health?
Oral health can be an indication of different health problems. Your family dentist may be able to catch on to indicators long before your family doctor does. A good dentist will tell you if you have any problems that you should make known to your doctor. In addition, they can advise you on some overall lifestyle changes that can help improve both your overall health and your dental health.
3. How often should we see the dentist?
Visiting the dentist as a family is better for many people, especially children. They are more at ease knowing their parents are also going through the same procedures. Come up with a dental schedule with your dentist to make these visits regular and planned, so that the children can be prepared.
If you have any concerns at all, do not hesitate to ask your dentist for advice. At QQ Dental, our patients' comfort and peace of mind are one of our top priorities, and we want to make sure that visiting the dentist as a family can be a smooth and easy process for you. Call us today for more information on our services.
No comments yet...
*** Your email address will not be published.
Promotions
---
Complimentary Consultations:

WE are offering no-obligation and no-cost complimentary consultations!

We understand that choosing a healthcare provider is a very personal decision and want to ensure
that you are comfortable with your dental team before committing to an examination or treatment plan.

This is why we invite you to schedule a 15-minute, complimentary consultation.
There is no-obligation and no-cost for a complimentary consultation!
This is your chance to meet us or discuss general and cosmetic dentistry services in a relaxed, conversational setting.

Call/Text, email now to book your complimentary consultation today!
647-352-0755 - qqdental2@gmail.com