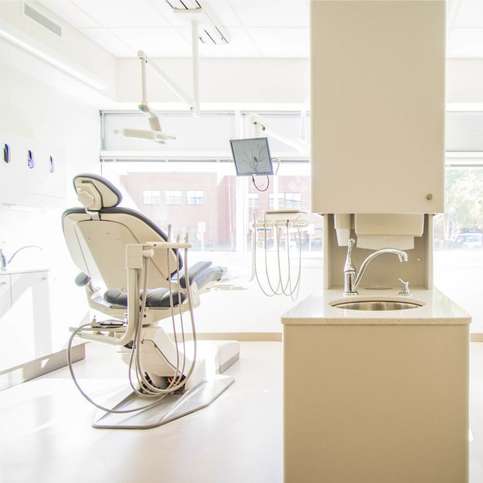 Why sedation is advantageous to cosmetic dentistry operations
March 05, 2020
Sedation is an anxiety ridden hurdle for a number of patients considering going through with cosmetic dentistry in Toronto - the act of being rendered motionless and unconscious while experts conduct the procedure can be a lot to overcome.
What's worth bearing in mind, however, is that dentistry is a heavily-regulated medical practice.
The regulatory protocols are instated to minimize (in some cases outright eliminate) the risk of operational failure and to help a patient feel comfortable during the treatment. To extrapolate on this further, let's discuss the three important things to know about dental sedatives:
Comfort is key
Most clinics practicing cosmetic dentistry in Toronto use nitrous oxide, orally-taken sedation, and strong IV-delivered sedation. Professional dentists at Queens Quay Dental have undergone the extensive training required to help figure out the best sedative to use on a per-patient basis. We even have lavender oil as an option for a non-toxic and environmentally-friendly approach to sedative applications.
Extensive regulations
The Royal College of Dental Surgeons of Ontario (RCDSO) oversees and dictates the guidelines for proper sedation and anaesthetic administration for all cosmetic dentistry in Toronto. It's a safe and regulated practice RCDSO watches closely and revises accordingly through consistent analysis and study. The verdict? If your dentist proposes to use sedatives, you can be confident in casting your doubts aside!
Helps overcome dental phobia
Dental clinic and dentist fears are an aspect we're more than familiar with, in all its facets. However, without sedatives, your phobia may restrict you from having crucial dental care that you may be in dire need of. At Queens Quay Dental, we administer sedatives in a judgment-free clinic that delivers comfort to help patients overcome their dental phobia.
Safe sedation means safe cosmetic dentistry
We know that dental phobia and fears from sedation often stem from unfortunate dental experiences you may have had with other clinics. With both medical and essential oils-based relaxation and sedatives available in our clinic, Queens Quay Dental is confident in delivering exceptional and caring dental cosmetic dental service. Book an appointment with us today!
No comments yet...
*** Your email address will not be published.
Promotions
---
Complimentary Consultations:

WE are offering no-obligation and no-cost complimentary consultations!

We understand that choosing a healthcare provider is a very personal decision and want to ensure
that you are comfortable with your dental team before committing to an examination or treatment plan.

This is why we invite you to schedule a 15-minute, complimentary consultation.
There is no-obligation and no-cost for a complimentary consultation!
This is your chance to meet us or discuss general and cosmetic dentistry services in a relaxed, conversational setting.

Call/Text, email now to book your complimentary consultation today!
647-352-0755 - qqdental2@gmail.com