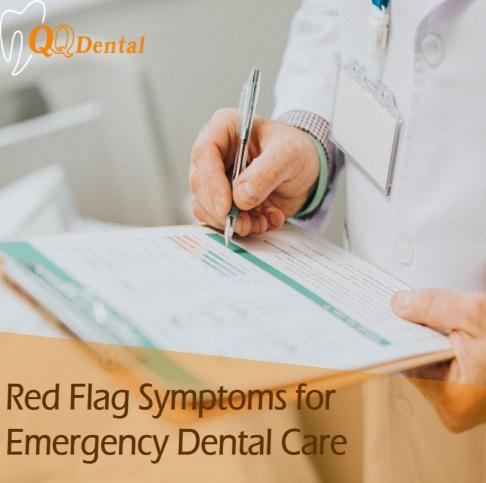 Red Flag Symptoms You Shouldn't Ignore for Emergency Dental Care
August 09, 2019
It may be hard to conceptualise in the modern day that your teeth have evolved to last a lifetime; especially now that a significant part of our diet can contain levels of sugar higher than ever seen in historically studied human eating habits.
This modern-day affliction means we have to remain vigilant, ever-cautious and proactive when it comes to maintaining our oral hygiene. That being said, there are circumstances outside of our control that lead us to requiring emergency dental care in Toronto in lieu of the precautions we implement in our day-to-day lives.
To enforce more preventative measures into your lifestyle, read our previous article on Great Habits for Healthy Teeth.
With this, it is important that you be able to identify red flag symptoms so that, should you ever find yourself in a similar predicament, you can seek emergency dental care in Toronto to remedy worsening that can typically occur over time if neglected.
Here are some easily identifiable symptoms to keep an eye out for:
Severe Toothache
If you're experiencing abnormal amounts of pain from the result of a toothache, especially ones that cannot be deadened with home remedies such as cold packs, and salt water, then get in touch immediately with your dentist. Severe pain is usually accompanied with swollen and/or bleeding gums – a typical characteristic of a gum infection that your dentist should diagnose and treat right away.
Lost Filling
While a lost filling may not be an immediate cause for concern, it is known to precede, if left untreated, root canals and the loss of the whole tooth. Pain is also known to be present at the site of a lost filling due to becoming aggravated from the increased exposure to pressure, temperature, and air. For these reasons, replacing a lost filling is highly recommended as a preventative measure to more serious future afflictions.
Chipped or Broken Teeth
Depending on the severity of the chipped or broken teeth, emergency dental care is usually recommended; especially should shooting pain, and large volumes of bleeding occur. In this happenstance, it is advised that your mouth be cleansed with warm water and a cold compress be situated on your face near the source of pain before being admitted into emergency dental care in Toronto.
Items Caught Between Teeth
Situations can arise that cause irregularly shaped objects to become wedged between your teeth and gums; sharp objects should never be considered for the removal of these objects as doing so can cause irreparable damage to your gums. Should removing these objects through reasonable measures prove futile, then your emergency dentist should be your next port of call.
Scheduling a Dental Emergency
Being admitted to emergency dental care in Toronto is never an exciting prospect, especially with the physical pain you may be undergoing. That is why at Queens Quay Dental, we continually strive to make sure our patients, new or returning, are accommodated holistically; from the moment they enter for treatment to when they leave – we put you, the patient, first.
Dr. Yarsolav Vasyutak and his emergency dental care team in Toronto continuously keep up with methods of best practice within the field of dentistry; whether this be through embracing innovation in machine technologies or holistic practices that put the wellbeing of the patient at the forefront.
Contact one of our staff members for your dental emergency and we'll book you into our clinic for treatment!
No comments yet...
*** Your email address will not be published.
Promotions
---
Complimentary Consultations:

WE are offering no-obligation and no-cost complimentary consultations!

We understand that choosing a healthcare provider is a very personal decision and want to ensure
that you are comfortable with your dental team before committing to an examination or treatment plan.

This is why we invite you to schedule a 15-minute, complimentary consultation.
There is no-obligation and no-cost for a complimentary consultation!
This is your chance to meet us or discuss general and cosmetic dentistry services in a relaxed, conversational setting.

Call/Text, email now to book your complimentary consultation today!
647-352-0755 - qqdental2@gmail.com