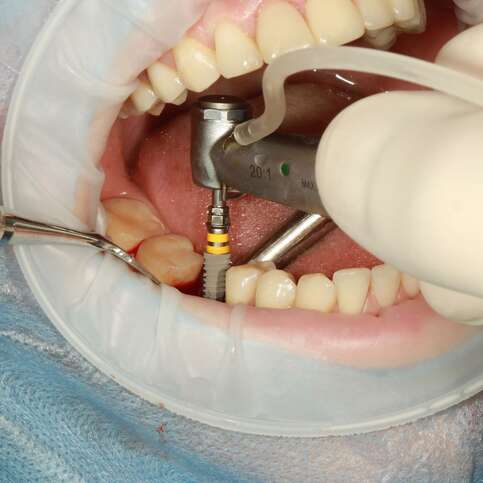 Traditional Dental Implants Procedure: A Step-by-Step Guide
July 28, 2022
QQ Dental is a trusted clinic for dental implants in Toronto. Dental implant installation is one of the most popular services offered at our clinic. A dental implant is one of the safest and most-preferred ways to restore your smile after losing a tooth to an accident or dental extraction. In this blog, we explain the procedures involved in the installation of traditional dental implants.
Traditional Dental Implants Procedure: A Step-by-Step Guide
Initial incision:
A small part of your gum is cut for the implant to be placed. This is the first and the foremost step as the cut is necessary to gain access to the tooth socket.
Cutting and drilling:
The initial incision is followed by the cutting and drilling process. The dentist will drill into the bone to facilitate easy placement of the implant. After placing the implant, the incision on the gum is stitched and left to heal for nearly three to six months.
Second procedure:
After the healing period begins the second phase of the dental implant procedure. A new cut is made on the gum to expose the implant. Then, a healing cap or collar is screwed on top of the metal implant.
Healing cap removal:
A healing cap promotes faster healing of the surrounding gum tissue. The healing cap is then taken off after a few weeks of its placement.
Abutment and crown placement:
An abutment is placed to provide the required support to the final crown. The abutment ensures a tight fit so that there won't be any dislodgement due to biting forces.
Traditional dental implant procedure allows your body to get accustomed to the dental implants and also provides enough healing time. QQ Dental is renowned for its highly-efficient service for dental implants in Toronto. You can also consult with us if you are looking for a cosmetic dentist in Toronto.
No comments yet...
*** Your email address will not be published.
Promotions
---
Complimentary Consultations:

WE are offering no-obligation and no-cost complimentary consultations!

We understand that choosing a healthcare provider is a very personal decision and want to ensure
that you are comfortable with your dental team before committing to an examination or treatment plan.

This is why we invite you to schedule a 15-minute, complimentary consultation.
There is no-obligation and no-cost for a complimentary consultation!
This is your chance to meet us or discuss general and cosmetic dentistry services in a relaxed, conversational setting.

Call/Text, email now to book your complimentary consultation today!
647-352-0755 - qqdental2@gmail.com